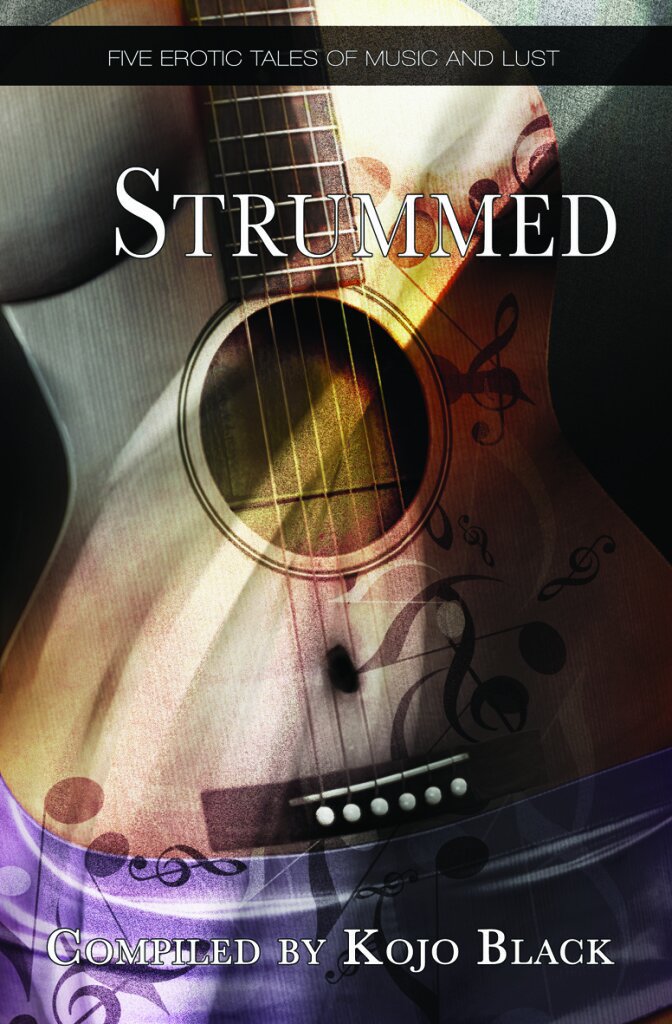 About a year ago I met Kojo Black. In fact, he was introduced to me in the 'salubrious confines' of the Green Carnation in Soho, at Erotic Meet. If memory serves, he bought me a G&T, and listened to me talk. He was looking for voices to read the stories in his collection, Sun Strokes. A month or so later, I was in a small recording studio in Stoke Newington, reading The Chalet, and discussing the possibility of writing for a forthcoming anthology with a musical theme.
I don't remember much of what I did during the Summer of 2012, but it would seem that I spent quite some time writing ten thousands words of a rather salacious story about sex and jazz in midnight London.
Strummed, the new collection from Sweetmeats Press, contains five stories written by five different authors – Amélie Hope, B.Z.R Vukovina, Percy Quirk, Stella Harris, and Harper Eliot – which all contain, in some way or another, a musical theme.
Despite being a prolific reader, I am currently knee deep in my degree, so I haven't had a chance to read through Strummed in its entirety yet; but I hope to do so, and to provide you with a little write up, as soon as possible.
For the time being, I can tell you about my story:
Set in a somewhat rundown jazz club in the heart of London, And the Midnight Trio tells the story of Violet, a young singer who is already worrying about the passing of time. As she sings she ponders what she will do when the shine of being the new girl wears off, and the suits no longer rush to watch her perform every evening. Her deliciously demanding lover sits at the piano behind her as she sings, but when their set is over, he is quickly forgotten, disappearing between the velvet curtains, and she finds herself in the midst of an elegant seduction with two polished businessmen…
And the Midnight Trio is teasing, and a little gritty, but also far more palatable than my usual stories; hopefully it touches on both the darkness I usually write and the simplicity of a more ordinary life, whilst not being too complex or unsettling for the collection. But you'll have to be the judge of that.
As an eBook it is available from
Smashwords
Amazon UK
Amazon US
It is set to be published as a paperback on March 15th, and you can pre-order it from
Amazon UK
You can also buy my story, And the Midnight Trio, on its own from
Smashwords
All feedback, reviews, and/or questions about And the Midnight Trio are welcome; you can contact me by email on harper (at) itgirlragdoll dot com.
In the meantime, I hope you enjoy the collection…